The year is 2019 and the unrequited Trump of America approaches the end of his first term…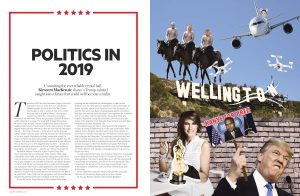 Written by Kirsteen MacKenzie in July 2016 for The Denizen Magazine
…Like Ronald Raegan brought an end to the Cold War, Trump has brought an end to Americas war on terrorism, now a wall on Mexico. Having been ousted from NATO for a metaphorical shirtless horseback ride with Putin, Trump has grounded (docked) all military outfits stateside to oversee the great wall of illegal immigration. At a meter high the wall is largely symbolic, albeit policed by re-appropriated drones. Mexico paid for lunch, once. Formerly the 3rd biggest trading partner with the U.S they are now ironically the largest, U.K (loner of Europe) is the second and for all its eye-rolling Canada can't keep away. Currently the Peso has equal standing to the dollar and illegal immigration across the border to Mexico has been rising steadily since the turbulent "ban the muslims" first year in office. Muslims aren't banned as of April 2018, but they do have to carry a GPS chipped license on them, an initiative broadly criticized for the benefit of 10% off Trump Hotel and Resorts bookings for all card holders, pundits say it should have been 20.
Meanwhile Melania Trump has a best original screen play oscar nomination for boy wizard epic "Make America Magic Again", it resembles Harry Potter only by accident having been made up of common words in common sentences. The FLOTUS with the "Hocus-Pocus" also released a line of (made in America) coat dresses featured in the film that sell-out continuously. Most recently FLOTUS hopeful Kim Kardashion-West made a public appearance, and unmistakable statement, wearing one; throwing it into the crowd, at a campaign debate for husband Kanyes' 2020 Democratic Nomination bid. Before he could finish Taylor Swift took the microphone and declared Bernie Sanders the greatest Democratic Candidate of all time, all time.
Across the Pacific Prime minister of New Zealand Ruth Bader Ginsburg has self published her autobiography to clear up any questions over her nationality and alignment to the states as former associate Justice of the Supreme Court. Now our nation can read for themselves how Ruth legally gained citizenship in less than three months under advanced Trexit legislation for academics and her love affair with the nation before the passing of her late husband. Meanwhile Trump has nominated John Key as associate Justice of the Supreme Court State side, it has nothing to do with their metaphorical shirtless horseback ride.
Since abandoning the USA on moral grounds the global film industry is looking to Wellywood as its new base under mayor Peter Jackson. Across the ditch Australia hasn't had a Prime minister for more than five minutes since 2016 and the Mad Max empire jumped ship to Rangipo last November. The septology comes to an end next Easter. Leading lady Charlize Theron said it was the right decision until Australia put an end to it's leadership woes and finally joined the Zen; becoming part of the Trans Pacifika (and Japan) partnership agreement, annihilating the laws and archaic ideas that have allowed the "pacific solution" and "operation sovereign borders" to go on for a decade too many.
In other Entertainment news, Vice President Mike pence (creationist) had a Dinosaur thrown at him on a recent NZ envoy at Waitangi Marae. The nation is predictably a buzz with the international meme based news attention. John Oliver, who now broadcasts from Canada (with the women of The View) even invited Steven Joyce to the studio to complete the circle and throw a Pence faced dildo at a dinosaur.
Other celebrities to abandon the states include Miley Cyrus and Cher, all had one way flights paid for by Sean Hannity.
By the way, Rawdon Christie is back hosting Breakfast.