"This premier female ascent of Mont Blanc boosted Balmats reputation and made Marie Paradis one of the valleys most famous characters"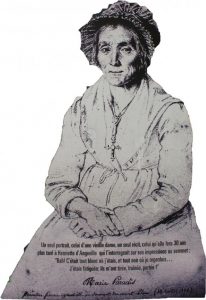 The 18th and 19th centuries were the age of "enlightenment" across Europe; an era in which Romantic notions of the sublime inflated climbers' aspirations. Our obsession with "who got to the top first" may have begun in 1786, the year Jacques Balmat and Michel-Gabriel Paccard climbed Mont Blanc. Twenty-two years later, and decades before women even had the right to vote, we had joined the worlds most official, unofficial race of first summiteers and premier ascents.
The first recorded female ascent worldwide dates back to 1799, right here in this region, near Vallorcine. One mysterious 'Miss Parminter' was recorded as having climbed "on" Mt Buet, known commonly as the "Ladies' Mont-Blanc" at 3096m.[1] Nine years on and practically eclipsing this feat, is the summit of Mont Blanc in 1808 by Marie Paradis.
Originally published in Hiiker
As the story goes, in the words of Jacques Balmat himself, he and two other guides had decided to make an ascent for their own amusement. At the start of the expedition they encountered a pretty French maidservant, Marie (or Maria) Paradis serving in a hostel. Balmat persuaded her to accompany them by force of charm, and the promise of fame and fortune; "I am an old wolf of the mountains" he said, "even I will not promise to succeed. All I ask you is to be courageous".[2]
After a long walk to the Grands-Mulets at 3015m, and some small complaints about the pace, a good night's rest awaited. The next day, things became more difficult, but never the less historic. On July 14th 1808 Marie Paradis was the first woman to summit Mont Blanc at 4810m. She was 18 years old.
Despite becoming ill mid-way, she swore "she would rather die than descend without having placed her foot upon the spot where M. de Saussure had placed his". According to scholars she vomited and was seized with nervous attacks but insisted she would die happy should she just reach the summit. After reaching the top Marie famously told her companions "throw me in a crevasse, and go where you want." [3]
On her return her recollection was far from the sublime, and closer to a hang-over; she claimed she had climbed, had trouble breathing, nearly died, was dragged and carried by her guides, saw black and white and then came down again.
This premier female ascent of Mont Blanc boosted Balmats reputation and made Marie Paradis one of the valleys most famous characters; 'Marie du Mont Blanc'. Proving exponentially that the infamous Mont Blanc can make both dreams and money a reality for the most dexterous of opponents. Paradis succeeded in playing fame to her favour; As the first woman to achieve such a remarkable feat, travellers sought her out and paid for the pleasure of hearing her story. [5] Today you might consider her mind-set like that of a YouTube starlet, the more outrageous their publication; the more views they shall receive and therefore ad-money.
Marie went on to open a teashop at the now vanished "bouncing cascade", or waterfall, of Les Pelerins in Chamonix. As promised, she was well tipped by her clients and remains famous to this day. You can see her as the matriarch of mountaineering in the valley of Chamonix, peering from the top window of the famous 'figures of mountaineering' mural at Place Balmat, Chamonix. Like many of the characters from this era she also has a street named after her "Promenade Marie-Paradis", the elementary school of Saint Gervais also bears her name.[6]
Marie's success is not only remarkable in the sense that she sought to monetize her experience, but also within the context of early 19th century women's mountaineering. At the time, most outdoor activities, sports and particularly mountaineering, was reserved for men of the leisure class.[7] Any women mountaineers were drawn from the leisured and/or monied middle, upper middle and aristocratic classes.[8] Marie's accomplishment upset not only gender stereotypes, but also cultural ones. With her triumph over Mont Blanc she became the ultimate working class hero. She proved a working-class girl of ordinary origins possessed the physical and mental capacity to undertake great sporting challenges, once reserved for the wealthy, as well as men. Working-class women from servants, to crystal gatherers, to prostitutes; could now also become historical figures with the right personal excursion.
From humble beginnings Paradis' feat was followed by that of a wealthy French countess, Henriette D'Angeville, who successfully summited Mont Blanc in 1838. In her French narrative of the ascent, D'Angeville declared mountaineering lacked a "feminine stamp" and encouraged her female successors to publish their experiences in their own words.
The woman in question, Henriette D'Angeville, was a forty-four year old countess from an established and wealthy French family. D'Angevilles upper-class background typifies the sort of woman who took on mountaineering challenges in the 19th and early 20th centuries. D'Angevilles wealth enabled her to purchase considerable goods and services to assure her own comfort and safety on the climb; Notably where Paradis wore a full skirt and reached the summit over two days, D'angeville completed the ascent in several days wearing a self-made 7kg outfit, that included, socially frowned upon, Knickerbocker pants. Meanwhile, in Chamonix, local men had placed bets on which point of the ascent she would give up. [9]
Both d'Angeville and her contemporaries came to view her own ascent as the true 'first' because Marie Paradis, the prior claimant, was allegedly 'dragged' to the summit.[10]
While Marie Paradis never climbed again and certainly had a helping hand in her 1808 conquest, Henriette d'Angeville was a passionate alpinist who reached the summit unaided and continued her climbing career into her late sixties.[11]
So before you start thinking your feet are feeling heavy, or your thermals could do with a good wash. Imagine your accomplishments thus far in a full Victorian skirt with the entire town betting against you. Marie Paradis like a Cinderella red riding hood followed the wolf up the Mont Blanc and got a fairytale ending. The moral of the story is; That with the right friends to drag you to the top, you can truly achieve great things.
[1] Megan Walsh, Can't Keep Her Down: A Consolidated History of Women's Climbing Achievements, Climbing.com, 2017

[2] Fergus Fleming, Killing Dragons: The Conquest of the Alps, 2000, page 77

[3] Peter H. Hansen, The Summits of Modern Man: Mountaineering after the Enlightenment, Harvard University Press, 2013, p.173

[4] Fergus Fleming, Killing Dragons: The Conquest of the Alps, 2000, page 78

[5] Allen, Victoria, Travelling Ladies: Victorian Adventuresses, London: Jupiter Books, 1980.

[6] Gaston Rebuffat, Mont Blanc, jardin féerique, Editions Denoel, 1987

[7] Mountaineers: Great Tales of Bravery and Conquest De Royal Geographical Society, The Alpine Club, page 150

[8] Bohls, Elizabeth A, Women Travel Writers and the Language of Aesthetics, Pages 1716,1818, Cambridge University Press, 1995.

[9] Laeticia FT, The First Woman to Climb Mont Blanc, Sky Above us
[10] Peter H. Hansen, The Summits of Modern Man: Mountaineering after the Enlightenment, Harvard University Press, 2013, p.173

[11] Demet Güzey, Food on Foot: A History of Eating on Trails and in the Wild, pages 64,65