Pt 1. presented as written "By the Daughter of Steve & June Jones"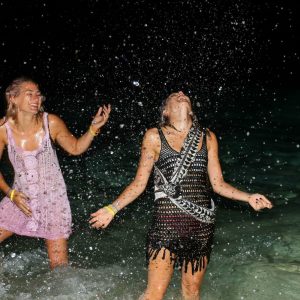 Tome I: On Our Way
We had arranged to meet 7.30am sharp Saturday morning for a coffee ahead of our annual New Years pilgrimage. At 7am I received a message; "come at 8". At 7.30am I received a second message; "where are you? You're running late." An impeccable debut.
In the latest run of "are you serious?" Jones family trials, the revelation that we won't be staying at the family Bach in Whangamata this New Years. "Is the change Paris?" was my jaded response. A reference to our last scheduled international holiday, indefinitely postponed in favor of a couples Yoga retreat in Bali. "Oh Duck" cooed Mum, "you know we'll get back to France as a family as soon as your Father officializes his retirement." There they were, my two least favourite words in one sentence, and we hadn't even left the driveway.
My name is Sophie, but growing up I was "Duck" (still am), the only child who failed to turn into a swan. I suppose I'm lucky not to have a sibling, they would surely get my parents looks, and in the end half of my due inheritance. As for said inheritance, every time my parents utter the word "retirement" it activates the hair on the back of my neck. As it stands the only thing keeping my parents from the consummate consumption of cruises, retreats and all-inclusives is my Fathers 9-to-5.
"Officializes?" I spit out, swallowing the word at the same time. "Your old man is a free man. Long live Karl Marx" replied the lump with the key to my future. "Why Karl Marx?" I sneered. His reply; "Isn't he the one who invented Socialism? My superannuation!" "Dad" I proclaim, lowering my register for added impact, "Karl Marx was a philosopher, and socialist, who described the dialectic of history culminating ultimately in the proletariats revolution; when capitalism is inevitably succeeded by a final stage of history. Probably communism." My mum winks at me in the background as Dad responds matter of factly "yeah, Socialist."
I still don't know our destination but maybe this holiday will be fun after all, apparently I need to explain Marxism to my own Father. However, considering Karlitos stance on the abolition of the right of inheritance I'd do better to change the subject. "Soooo…" I chime, "where to now?"
Tome II: The road to Paihia-detion
As it turns out, my olds had purchased whatever an "outboard powered catamaran" was and we were off to Tutukaka to collect it, then on to Paihia. Clearly fresh from a sales pitch Dad recites, "With 144 islands and bays, the Bay of Islands is one of the best maritime parks in New Zealand." His voice shifting to a violent Mad Butcher impression, "MAR.MAR.MARITIME PARK!" he howls into the wind.
I think I heard the word 'Catamaran' more times in that one morning than I will hear for the rest of my life, cumulatively (I certainly googled it in more ways than I'm willing to admit).
Evidently we'd welcomed a new Jones into the family; Stella Marie Jones. I decided to name her "The Swan" (the sister I never had), however Dad explained boat names were for life, and couldn't be changed.
In the succeeding hours of time-lapses, #yachtlife selfies, relentless sea spray and actual sea-sickness the beautiful new world of being a (qausi) Catamaran owner opened up like a Taylor Swift ballad. She was perfect sibling; I could pimp her out on social media, she would never call me the ugly duckling, she would keep my parents happy/in the country and best of all I could sell her off when my parents choke the toad.
I christened her sweet double hull with the traditional smashing of a bottle of champagne, before Dad could have the honors.
Tome III: Woke in The Boathouse
As it happens the architect Pip Cheshire had designed The Boathouse as the perfect destination for retiring parents with an only child. The ensuite bedroom is on the ground floor (old people hate stairs) while my private paradise, for once, took pride on the first floor. Of course it did sting a little that my bathroom was in the adjacent service quarters. I'm nevertheless persuaded I can survive two nights of walking across the velveteen lawn to brush my teeth.
Waking up at the Boathouse I didn't know if I should be more stunned at the view, or the fact that Dad had made breakfast. Guiding me into a chair at the table he began "You, Sophie Gail Jones, are eating with your mother and I, alone, before everyone arrives". Next, Mother took the lead "Stuart is flying here in a helicopter with his, ehm, wife and, there's a chef coming soon and…" she began drifting off at the thought of Stuarts' "Child bride" Stacy. Stacy by the way is my age, so hardly a child. However considering Stuart met Stacy at my 18th, subsequently divorcing his wife of 3 decades (a former close friend of my Mother), it's a sore spot. It gets worse, as the next words resemble "we sold the Bach". "What!?" I grind through a piece of prosciutto. "We sold the Bach" they repeat. Silence. Lapping waves. My chair creaks as every muscle in my body tightens. "To Stuart" adds Mum as though it's some kind of consolation. My chair legs make the little scream I'm not capable of as I bolt upright. At that exact moment the chop chop chop of helicopter blades closed in overhead as Stuart the usurper arrived. "DIDN'T YOU THINK TO ASK ME IF I WANTED TO BUY IT?!" I yelled above the noise. "OH DUCKIE YOU'D NEVER HAVE ENOUGH MONEY FOR SOMETHING LIKE THAT, EVEN AFTER WE'RE DEAD?!" Then they laughed. Laughed, as I planned my revenge.
Tome IIII: The Great Escape
Stella Marie was a traitor. She was clearly purchased with the Bach money. There's no denying yesterday was an amazing day, one I'd repeat with open arms and Snorkel gear, but this means war. Thankfully, as any single millennial knows, tourist hot-spots are Tinder hot-spots and as luck would have it there is a great deal of Tinder activity in Paihia (just one bay over). Armed with Stella Marie selfies, face hidden by oversized sunglasses, the matches were rolling in. I settled on a Frenchman named Baptiste. 27 going on 23, he was exactly the genre of unwashed youth (probably too old for me) my parents would despise, AND a freedom camper. In return for being my subservient but politically outspoken dinner date (Dad got a lesson on the Communist manifesto after all), I promised we'd take Stella for a tour to the fireworks barge and pick up his mates too. He worked on a luxury yacht in Tahiti and assures me he can captain any boat. As dessert was being served, Baptiste was proud to present some proof of his Island adventures, taking off his shirt to reveal an intricate Polynesian tattoo, and a lean, tan, six pack. Stuart covered Stacys' eyes for a laugh. As Baptiste religiously described what each pattern represented, I interrupted to declare that the fish on the triangle meant he was experienced at sea and could "captain any boat". Again, laughter. They may have found it funny as low-key racists, but there was a bigger picture at play. I was laughing at them laughing. Babtiste was laughing at my laughing. Moments later we were cackling into the black night as we made a nautical beeline for Russel. Who's laughing now?
Tome V: The Golden Fleece
We awakened in the morning to discover my Father standing over us, and a very pleasant turquoise light from the underwater window (porthole?). Baptiste wisely rolled over and played dead. Steve and I stared it out, the unspoken words; "you took the boat"-"you sold the bach"-"this guy"-"you sold the bach". Progressing to; "you returned the boat"-"you aren't screaming"-"really this guy?" Dad shook his head as he mounted the steps back to the upper deck. "We're leaving, get out, clean up" he barked. Baptiste rolled over for a cheeky goodbye kiss ahead of scuttling off to his van, dressing in a jig as he economized time across the velvet lawn.
Retreating to my little mermaid cabin I fell back into a coma. When I woke up the engines had stopped and we didn't appear to be moving. I snuck up the stairs expecting to be in Tutukaka. Instead I was greeted by a postcard perfect pohutakawa framed bay, and the silent treatment. Steve finally announced "this isn't your boat." then changed the entire structure of my face with the addition of the word "yet". Having sacrificed the ram on the altar of Zeus, turns out I was due my beautiful golden fleece; My parents were building a new Bach for me.
Pt 2. presented as written "By Steve Jones"
The first part: Off We Go
Sophie was typically late, blaming us on arrival as usual. Historically we'd be on our way to set up shop at the Bach in Whangamata for New Years. This year though, a lot has changed. For starters we sold the Bach.
Standing down as head of the company I'd built from the ground up and selling away my shares to Stuart came a lot easier when I started browsing for yachts; Easier still when he also offered to buy our waterfront Bach for 2mil.
Duck, or Sophie Gail Jones, is my daughter who thinks she's a prophet at 19. This little madam is even trying to squeeze, at the very least, another Euro-trip out of me. Like most of her generation, she's really angling for a leg up into the property market. If she's lucky I'll tell her in advance where the rest of the Bach money is going. Instead, I tell her my retirement is as good as official. What does she do? Gets political. Honestly, I can't be bothered with all the attitude she's already giving us, and we haven't even told her the real news, let alone left the driveway.
Slamming the packed boot was Junes cue to tell her about the boat purchase, my boat; Stella Marie, an Aquila 36 outboard powered SPORT catamaran WITH the hydraulic swim platform. My baby has 2 x Mercury Verado 350hp motors so we can cruise at well over 25knots probably 30 if I haven't over-fished.
The second part: Picking Up Stella
The deal had been closed days prior, but the previous owners did surprise us with a case of Dom to mark the occasion. Or to inhibit a change of heart, which would have been possible legally speaking. We could have also legally changed her name but Hank (previous owner) warned me it could bring bad luck, especially to new boats. I told Duck, who had been nagging on about naming it after her, that boat names were for life. She believed me. I also told her she'd have to put her phone on airplane mode while on the boat, as Stella had the same navigation technology as a plane and was prone to interference. Muppet also believed me.
At the advice of Hank we stopped off at the Poor Knight Islands ahead of setting course to the Bay of Islands. In the face of risking a fine of up to $250,000 AND the impeccable body work of Stella, Duckie ceremoniously smashed an ill-advised bottle of Champagne in the middle of the marine reserve. She thinks I'm annoyed because I wanted to do it, in reality I'm disappointed she wasted the Dom and not the Piper.
We're going to need all the Champagne we can get to celebrate the sale and my retirement with Stuart and his chicky-babe wife tomorrow. Tomorrow is also the day we tell Duck the Bach is history, Stu is going to replace it with a new build. She doesn't need to know that, but she will need a drink.
The third part: SHE TOOK MY F***ING BOAT
With my own hands I made that brat a meal. With her own prerogative June had organised a wonderful dinner party….What does Soph cook up? She took my f***ing boat. She took my f***ing boat with a guy she met on Tinder; A dirty Frenchman who thinks living in a campsite makes him Che Guevara, it doesn't even make him a "freedom camper" by definition. Idiot.
I knew we should have made her study law. Bachelor of Arts and trouble always go hand in foot. We thought they would at least return after the fireworks, but no, it was 3am by the time they returned. I didn't sleep a wink. Waiting in the kitchen in silence with Stuart's sabrage sword 'till I could get my hands on that frog. Of course Stuart had no problem with the bloody age difference, took his sword away close to 2am. June even suggested we should have told her about the land we purchased right away instead of letting her react like that. Letting her react like that? I had thought the homeless grown man was the reaction.
The fourth part: The Big Reveal
Having scared the bastard off Soph had spent the morning crying in her cabin as we retraced our route out of the Bay of Islands. We had already arrived in Ohawini bay when she came up to join us with red raw eyes. It was time for the final part of the plan. Showing Duck the land we purchased for her to use, 850sqm of secluded waterfront property. At the minute there is a shed, a dunny and an outdoor kitchen. Enough to keep her Uni friends entertained, especially with the boat nearby. I'm quite certain she thinks we're building another Bach. The truth of the matter is in a few years we'll be calling this land home. We've already contacted Pip Cheshire to work with us and we'll be putting the family manor on the market as soon as National is back in power. But that's news for the next family holiday. I guess we'll have to take Duck back to Europe after all to reveal that one…as far away from Stella as possible.
The fifth part: Here's a picture of the swordfish I caught on the way back (the before image was lost).