Today, skiing in the Alps is a far cry from its first incarnations, and incontrovertibly more glamourous…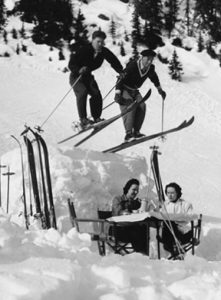 From the British royal family to her Majesty's favouite spy, skiing in the Alps today isn't just a sport, it's a British institution. Before 'plowing' into how Sir Arthur Conan Doyle[1], the author of Sherlock Holmes, brought skiing for sport to Switzerland…Let's 'schuss' into primitive man's method of strapping sticks to their feet as a means of moving across the tundra for hunting.
The Paleolithic Period is the earliest period of human development, which lasted until approx 8000 BC. In the 1960s archaeologist Grigoriy Burov discovered fragments of ski-like objects which date back to 6000 BC in northern Russia[2]. Their use is documented in cave drawings at least 5000 years ago, which show skis were being used by hunters and trappers as glaciers retreated during the stone age. Pre-historic hunters were using an early version of 'skins' to follow reindeer and elk herds by covering the planks strapped to their feet with fur, the same function as the modern equivalent used in ski touring today. [3]
Continue reading "Chamonix : History of Skiing in the Alps" →